OVERVIEW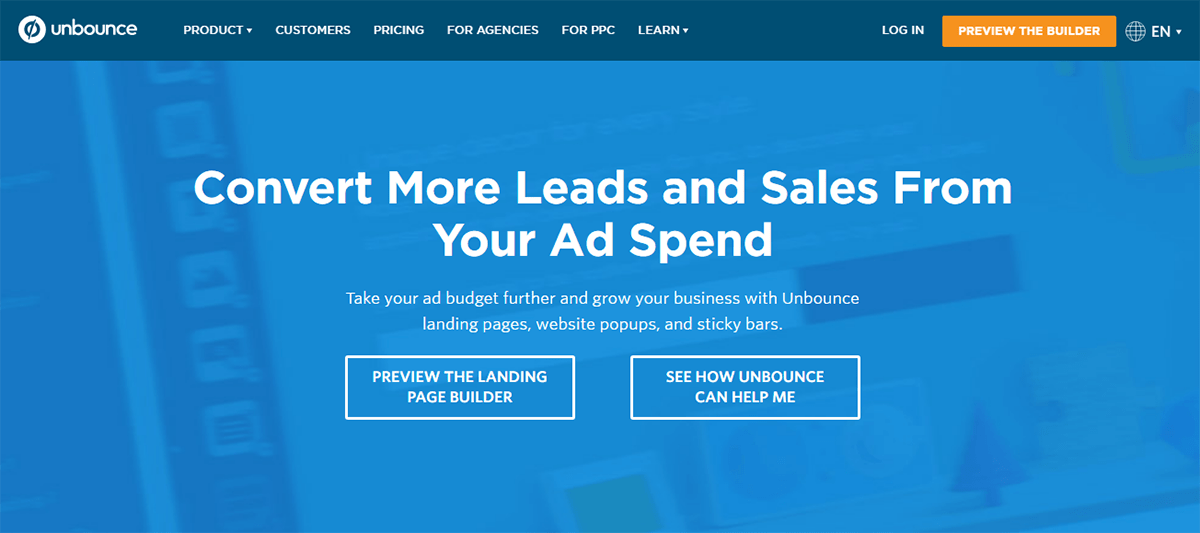 Professional Templates & Easy As 1,2,3
If you need a professional but easy to use landing page creator then you can't go wrong with Unbounce. Not only can you create these jaw-dropping, high conversion landing pages through their easy-to-use editor, but you can also benefit from a 30-days free trial so you can experience the tools and features before you make a purchase.
You don't need to know HTML or any other coding languages. The setup wizard will help you create perfect pages.
While mostly suited for marketing agencies, small businesses or even individuals will find it beneficial for establishing a reputation.
Why Use Unbounce?
Good for marketing agencies
Mobile designs
Robust, easy to use
Want to know if Unbounce is right for you?
Let's check it out!
TEMPLATES
4.5

125+ Beautiful Templates To Choose From
All Unbounce templates are mobile friendly and well designed with angegement and conversion in mind.
Selection: Unbounce offers a large selection of templates which you can filter by industry type, campaign type or use case, allowing you to easily find what you're looking for. There are also 3rd party templates available for purchase on Themeforest.
Customization: You can customize any template to the finest details.
FEATURES
5.0

Unbounce offers an effective drag-and-drop tool which helps you drag in images, text, video and even maps into your landing page and then organize them however you see fit. You can integrate social media, downloadable files (such as eBooks) subscription forms and more.
Once your landing page is ready, you can measure visitor stats to track visits and conversion rates, and use A/B testing to improve your results.
Among the more advanced features are Dynamic Text Replacement, which allows you to switch keywords across all pages instantly, custom confirmation pages, campaign grouping and more.
Best of all, Unbounce integrates with some of the best marketing tools online, allowing you to maximize your efficiency in minimum time. These popular integrations include Zapier, MailChimp, WordPress, Hubspot, Marketo, Salesforce and many more.
EASE OF USE
4.3
Unbounce Makes Beautiful and Effective Landing Pages
Unbounce is powerful, yet friendly and easy-to-use. The basic builder window opens a large workspace, which includes handy guidelines.
When you login for the first time, unbounce takes you through an onboarding process, explaining the features and options in simple coherent english.
Working with the different elements is a snap, and the properties tab on the right lets you tweak all aspects of your page. Even if you don't know what you are doing, instructions are all over the place, so by the time you're ready to publish you'll feel like a pro.
Marketers will find the A/B and analytical tools extremely professional and helpful.
SUPPORT
4.8
Unbounce is Here To Help!
Video Tutorials – only 1 getting started video
Email Support
Forum – very active
Support Center
Blog – very active
Phone Support
Live Chat
There are a lot of ways to get help, either in the knowledgebase and FAQ, via blog comments or forums.
Plus, you can talk to a human with their Chat, or you can call toll-free during business hours. Support is quick and helpful.
PRICING
Premium Features, Pro Price
Unbounce is branded for large enterprises and marketing agencies, and their prices are accordingly.
Subscribing for an annual plan will entitle you for a 20% discount, but nevertheless, prices are still considerably expensive. While the amount of features and integrations they offer is impressive, they still limit the amound of pages, pop-ups and sticky bars you can publish, which doesn't seem fair.
You can try all Unbounce plans for 30 days, free of charge, but you will need to provide a credit card in advance.
USER REVIEWS
Be the first user to leave a review about Unbounce in English!Write a Review
BOTTOM LINE ON UNBOUNCE
Unbounce offers a handsome and robust landing page builder ideal for startups, small businesses, and marketing agencies looking to race past the competition. With Unbounce, you can quickly design mobile-friendly landing pages without the need for developers or an IT department. If you're a startup, this means you can easily test concepts, pricing models, or even branding. The best part is that Unbounce integrates with some of the most popular marketing tools out there, so you can maximize your efficiency with minimal effort.
PRO'S
Marketer-friendly
Powerful features
Add-on features as needed
CON'S
Expensive if you don't see results
If you are a Marketer, you can't go wrong with Unbounce. The builder is quite easy, but you can create complex pages with detailed analytics, as well as have the creativity to compare different campaigns with ease.
Like Unbounce review? Visit Unbounce.